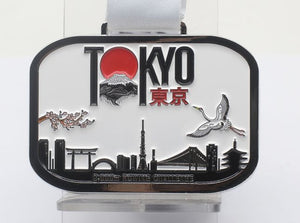 Tokyo 2000m Indoor Rowing Challenge 
Row 2000m anytime, in a one off row,  on a rowing machine, on water or a combination of the both to win your exclusive medal and certificate.  
Submitting and Claiming your Medal
You will be emailed a seperate link / webpage when you sign up, to upload your progress as and when you want to.  
Strava Connect
Uploading your progress could not be easier with our challenges allowing you to upload activities direct from Strava.  Do not worry if you do not have Strava, as you can also add activities manually.
Checking Your Progress
We have a real-time results system with instant tables, sortable by age, gender and Country.   We also have live tracking 'journeys' with fully interactive maps for our annual, monthly and longer challenges!

Every Challenger who completes their target goal will be included in the 'completers table' which will be compiled at the end of 2021
CLICK HERE TO SEE STANDINGS AND RESULTS